#BlackLivesMatter YES They Do!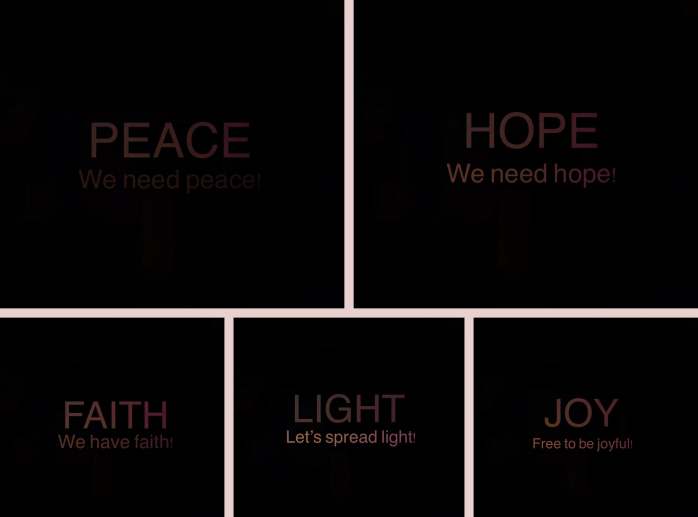 It would be unbelievable to say that you are not aware of what has been going on in the supposedly United States of America. It would be ludicrous to say that you haven't seen what has been going on very publicly for the past month and more BUT most recently in May 2020. The saying, you must be living under a rock would definitely be true if you have not seen how the States have been ravaged with hate, racism, discrimination, violence, unlawlful, unjust, fatal treatment and acts towards Black/ African American people. The things I have witnessed via social media have been disorienting and the things I have been feeling are overwhelming especially since I am Black. As well as that big fact, I am bicoastal and have lived in and called Florida my home for 10 years. It is very disheartening and just like everyone else in the Black Lives Matter movement, we need this to stop. We need racism at the core to be eradicated, we need some serious exercises to take place, some serious education and therapy for those that have racist tendancies and this deadly racist heart condition. We also need justice and real conviction for those that have committed these unlawful crimes against our people.   
The Bible app scripture of the day for today - June 3rd 2020 is "2 Timothy 1:7 For God did not give us a spirit of fear, but of power and of love and of a sound mind." I had that scripture in mind when on May 29th 2020 I posted the below photo and caption on the Kayisha Online Instagram. I was inspired to post what I did because living in fear is not life; fear arrests you and makes you think that things are impossible, but let me reassure you that with God it is possible. Change is possible and yes, Justice is possible. I had enough of people posting things saying "Am I Next?", being scared for their lives and that of their brothers, fathers, sons and for that of others. It's not right, it's unacceptable and my caption says it all.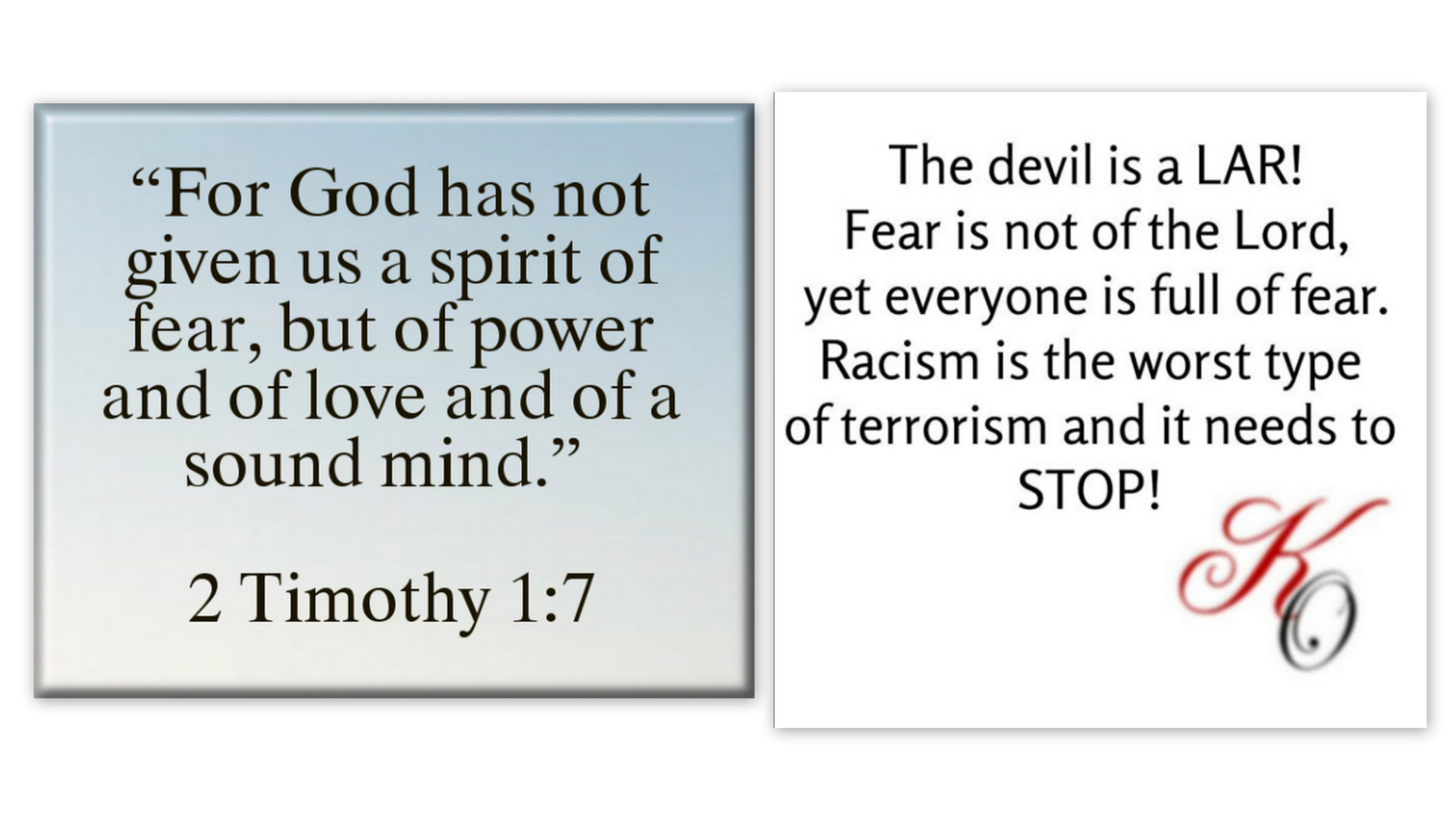 "No one should leave their house scared that they won't come home, no mother should have to worry that she won't see her child again, no parent should have to bury their child and no race should feel less than any other. We are all human beings, underneath the layer of skin is all the same body parts, organs, cells, tissues etc. Yes Black people are talented, creative, beautiful and strong but it took us 9 months to develop in the womb just like every other race. WHY should we be treated unfairly and unjustly murdered, our lives are just as precious. Racism is terrorism! It's wicked, it's evil and it has to STOP."
Following that was Blackout Day 2020. A lot of people didn't understand the purpose of it, but when you understand the impact of racism, you realise that we have to come together because we are #StrongerTogether for real. The Blackout Day was an effort to show solidarity across the board, it was to stop the show (the promotion of  everything but Black Lives Matter) BUT the only issue was that people used the #BlackLivesMatter hashtag which meant the blackness filled that # when we needed to show the reason why we were protesting in this manner in the first place. The collage above consists of the posts I shared as my contribution to the blackut across all of my Instagram accounts. Social media is very powerful and when we use it correctly, we can certainly educate, protest and bring about tremendous change. 
Let me just reiterate! I say that because Black Lives Matter and we can bring about tremendous change because there is far more with us than there is against us. I also say that because all remnants of evil must go. Evil and wickedness have no place in this world, the devil was cast down and that's what happens when you're evil, so I believe that light is going to eradicate darkness. I beliebe that evil will be eradicated now that it has reared its ugly head in such a despicable fashion in front of the entire world. Its existence can't be denied. Justice is overwhelmingly in our favour, and at this point there is more good than bad.
In London today, thousands of people (men, women and teenagers) walked the streets of Central London and successfully carried out a peaceful protest in support of the unlawful deaths in America; the despicable violence at the hands of the police but also the delusional citizens that think they have the right and authority to take a Black persons life. They were also in protest of the injustice and inequality in the USA, but also in the United Kingdom. I'm a proud Londoner as the sun sets tonight, and although I wasn't there, I can say we stood up and stood together with our brothers and sisters across the ocean. Below is a Zurie and Zaria scene that says Zurie and Zaria are standing with the peaceful protesters in order to state that we shouldn't have to live in fear of being attacked and killed because of the colour of our skin.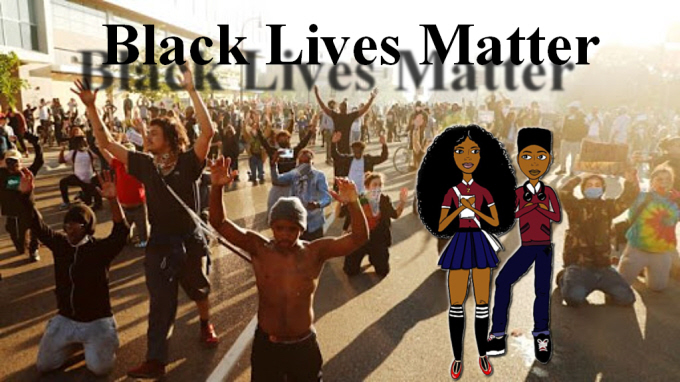 My children's book characters, Zurie and Zaria declare that Black Lives Matter!
We may have been posting black squares on June 2nd 2020 but racism can't hide. It has been brought to light even moreso than before and now is the time for it to be extinguished once and for all. That's worldwide, not just in America. It needs to be extinguished in the United Kingdom, in Europe, in Australia, Africa and Asia. Enough is enough!
Now please remember, God is with us. The Holy Spirit is with us, Jesus Christ died so that we would be free to live life abundantly. Jesus' death and resurrection are not in vain. We also have angels that are guarding us, angels on assignments to assist and protect us. We have to put our angels to work. 
Our ultimate goal is to completely remove and destroy racism, to cause it to cease to exist from the root. Above I mentioned education, practical exercises and therapy and that is definitely necessary. We also have to continue to spread love, to be good examples, we are human beings and we are all in this together.
I'd like to close this out by praying:
Heavenly Father, I pray that You will open the eyes of our hearts. I pray that You give us a clean heart, create a right spirit within us, fills us wth the Holy Spirit and cause us to be more righteous. I pray for a miraculous victory to fall on the entire earth and Lord I ask you to wipe out all wicked and evil. I call on the power of God to allow love and peace to reign. God, You are love, You made us in your image, so restore love in this world and hear my call for a worlwide revival. Bless us Lord! In the name of Jesus I pray. Amen!
Be Inspired!
Kayisha
www.kayishaonline.com
All Things Kayisha
Follow me on Instagram @kayishaonline
#BlackLivesMatter #BlackOutTuesday #EnoughIsEnough #StrongerTogether #Hope #Light #Faith #SpreadLove #Justice #PrayWithMe #TogetherWeAreStrong #BLM #ThisIsAmerica