Kayisha Online is 4 Years Old Today!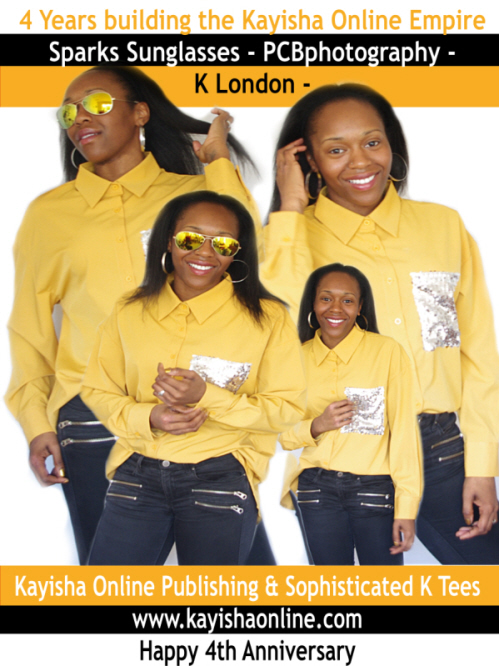 Kayisha Online is four years old today. On May 26th 2016 I launched this website - www.kayishaonline.com. It's exactly 4 years to the date and I remember being in Florida, on my bed typing away, graphic designing away, creating page after page of what I was calling The Home Of "All Things Kayisha" It's been 4 years and time flies. I'm kind of glad that time flies because I have been able to achieve so much, experience so much, accomplish so much, meet so much amazing people, travel so much, uplift, inspire and serve multitudes of people and grow so much. Not only has Kayisha Online grown in these past 4 years, but me, I, Kayisha Thomas have grown. I have grown as a person, as a child of God, as a daughter, a sister, a friend, a colleague a Writer and as a Business Woman. I am a Female Entrepreneur and I love it!
Kayisha Online is a massive part of my life and I couldn't be more glad that it bears my name. My name means living prosperously, and my desire for Kayisha Online and all things that come under the umbrella, in the empire is that they prosper. I like to celebrate, I like to smile, laugh and enjoy; but unfortunately at this time we are in a global lockdown, we are quarantining and in a global pandemic, so I can't celebrate with an event like I would have liked to. So instead I got creative and designed some posters. I created posters to celebrate my 4 year milestone and hopefully they get seen by thousands of people all around the world. 
Kayisha Online consists of :-
PCBphotography - My heart is in photography. I have been taking photos since disposable camera film days. I was a child taking photos of my shoes and my hairstyles. I used to pose around the house and now I am front and centre at international fashion shows. PCB was officially established in August 2011 when I worked for BBC Nottingham for Nottingham Caribbean Carnival. Almost 9 years later and it still brings me joy like the first day.
Sophisticated K T-shirts - Fashion is a massive part of my life. I used my own style and fashion ideas to make up for the fact that I was hiding my skin and my Eczema scars from the world, so I always came up with a creative outfit, especially after I didn't have to wear school uniform anymore. After that I wanted to clothes I wore to really represent me. I setup the SK clothing Line at the end of 2014 when I was in Florida and it consisted of uniquely designed t-shirts. Now I have a bigger collection and people around the world wear my designs on t-shirts and hoodies. I also get asked to customise t-shirts and do one off collections.
K London YouTube - The K London YouTube channel started as Sophisticated K back in January 2015. I figured I would use the name of my t-shirt collection but September 2019 came along and I changed it to K London (a name that had been brewing since 2012). I have over 32,000 views on my channel, 275 videos; I've posted 1 a week for the past 5 years. My content has grown and developed into what I see as a lifestyle channel that uplifts, inspires, motivates and entertains my viewers, also known as The Krew.
Kayisha Online Publishing - I'm an Author, a Published Author and writing is in my blood. Words and sentences run through my veins and I don't think I could survive if I couldn't write. I have published 5 books since November 2016 and as a result of that I have done public speaking engagements, travelled the world, appeared on radio in London and on Haitian television in Florida USA. Ounce Of Faith And Inspiration, Quotes Of Faith And Inspiration, Measures Of Purpose In Life, Ounce Of Faith And Inspiration Black And White Edition and Mum And Dad, We Know What Love Is make up my Author Library. They are all available on Amazon, Kindle and Kayisha Online. 
Sparks Sunglasses - Most recently (One year ago) on May 19th 2019 I launched Sparks Sunglasses. I am a Sunglasses Connoisseur, I absolutely love sunglasses and this venture was a long time coming. It is the newest addition to the empire, but the passion is just as ancient as the others. I have the honour and the privilege of dressing faces, and providing top quality, trendy, stylish and fashionable sunglasses that love and protect your eyes. I don't take that lightly, and after celebrating the first year just last week, I am looking forward to what's next for Sparks.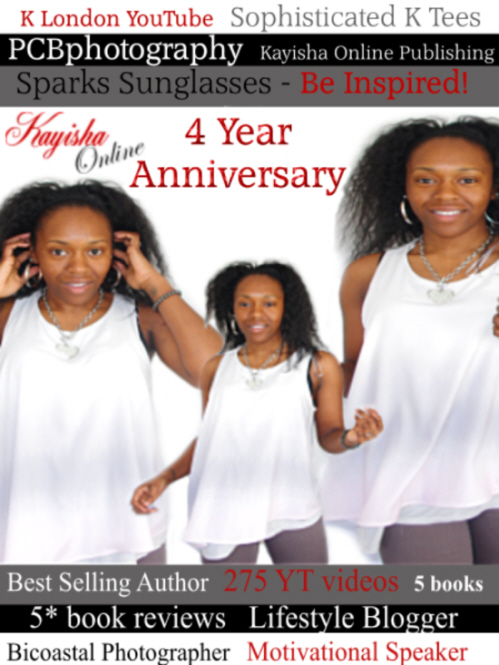 The first paragraph of this blog got deleted. I could have given up and said forget it but after 4 years I have learnt to NEVER GIVE UP. I opened a new page, saw the blank page and had to start all over again. But after all these years I can proudly say that my perspective has matured and I can tell you that a fresh start is always great. Believing in yourself always pays off and going the extra mile when others stop at the end will most certainly get you further in life. Trust the process, have faith, stay positive and you will succeed. It might seem hard sometimes, it might seem like no one sees your efforts or cares about what you're doing BUT trust me, people are watching and your time is coming. KEEP GOING!
Be Inspired!
Kayisha
www.kayishaonline.com
All Things Kayisha
Follow me on Instagram for daily inspiration @Kayishaonline
#KayishaThomas #KayishaOnline #Prosperity #HappyAnniversary #YouTube #Author #Photographer #BusinessWoman #FemaleEntrepreneur #4YearsOld #HustleHard #Empire #Legacy