| | |
| --- | --- |
| Posted on May 7, 2020 at 3:25 PM | |
Mothers Day Is Something To Celebrate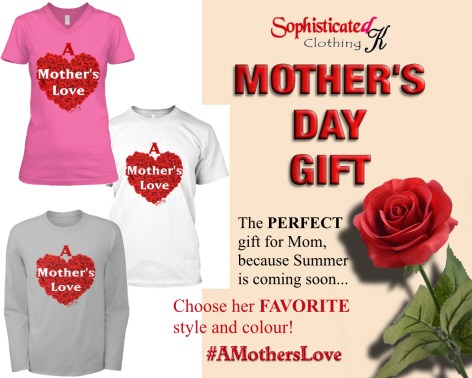 Use the discount code SK2020 to get 10% OFF your order

We have been celebrating mothers day since the 1900's, but even before that since the Ancient Greeks used to celebrate Rhea who was known as the Mother of the Gods and Goddesses. That's a little History lesson for you. It's a day and weekend for honouring motherhood, showering your mother and the mother figures in your life with love, affection and attention. I said weekend, because why not spread it over two days, but in actual fact it is just known as Mothering Sunday.
With all of the things that our mothers do and have done for us over the course of our lives, one day truly isn't enough, BUT when the day does come you better be prepared to show your gratitude and your appreciation. 
If you don't live with your mum, like my Caribbean people would say "You better not come wid yuh two long hand." That is definitely a Jamaican phrase, but basically it means don't come empty handed. I love my culture. My mum was born in Jamaica before moving to the UK, so even to this day, she comes up with Jamaican phrases that have me and my sisters cracking up.
Mother's Day is on the calendar at different times for different countries, but regardless of the day, it's worth acknowledging. Back in November 2019, I designed the A Mother's Love t-shirt for the NEW https://teespring.com/stores/sophisticatedktees" target="_blank">Sophisticated K I Believe T-shirt Collection. I was inspired by the A Mother's Love poem I wrote to post on the Kayisha Online and https://www.instagram.com/zurieandzaria/" target="_blank">Zurie and Zaria Instagram for the UK Mother's Day 2019. That poem is still making it's way around because I recited it at the start of a Special Mother's Day video I did on the K London YouTube channel back in March 2020.
Check out the video. I put the spotlight on all of the amazing mothers in my life. Oh and use the discount code SK2020 to get 10% OFF your order when you shop on the Sophisticated K Tees Store before the end of May 2019. I'm sure your mum will LOVE the A Mother's love t-shirt or long sleeve.
Happy Mother's Day to all of the wonderful mothers out there. Your place in our lives are priceless and irreplaceable. We appreciate you more than you know!
Be Inspired!
Kayisha
www.kayishaonline.com
All Things Kayisha
#MothersDay #JamaicanPhrase #AMothersLove #ILoveYou #BigMama #MomLife #MommyBlog #Poem #tshirt #youtube #AnnaJarvis #Rhea #GreekGods #discountcode #shoponline