Zurie And Zaria Said "Stay Home!"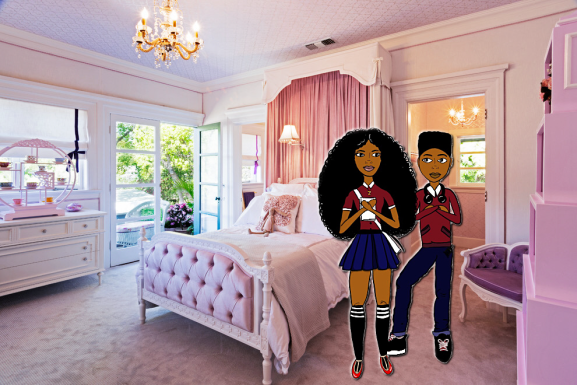 Zaria's bedroom scene
Zurie and Zaria are the characters from my children's book, Mum And Dad, We Know What Love Is. They are 11 year old, Afro-Caribbean fraternal twins and during this global pandemic they are sticking together moreso than ever before. BUT, they are also saying "Stay At Home And Save Lives." Follow Zurie and Zaria on Instagram https://www.instagram.com/zurieandzaria/" target="_blank">@ZurieAndZaria.
When 2020 started, no one imagined that this is how we would be living during Spring. We had been looking forward to Spring Break, Easter, May Bank Holiday, Cinco De Mayo and then the return of Summer. Unfortunately, we are dealing with a wicked and evil virus (a new strain of the Coronavirus) and the result is the death of 256,550 precious lives thus far. Saying thus far is really sad because it means that it's quite possible that more people could die bceause the number of recorded cases as of today is 3,706,126. Thankfully 1,228,106 people have recovered, but we need more. Because of that, staying home right now isn't just about keeping you and your family safe, it's not to stop you from havig fun, it's not to take your freedom away — it's also about helping to save the lives of others all over the world too. Even though we are physically apart, we are actuall all together in this situation. And together we can have the VICTORY over Covid-19. So, please Stay Home and help to save lives With Us. We can get through this together!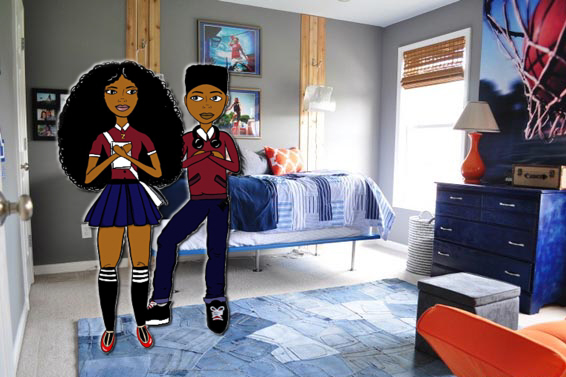 Zurie's bedroom scene
Here are a few ideas of things you can do in the next couple of weeks:-
*Get creative - get artistic, have fun and draw, paint etc.
*Keep each other company - have meaningful conversations and make positive use of social media.
Togethrness is important now more than ever before becaue were all dealing with this. This is a global pandemic, everyone has been affected in one way or another. The virus hasn't discriminated and it's time we realise that love is all we need. 
*Stay healthy - let's cook, experiement in the kitchen and eat good clean food, fruits and vegetables. And don't forget to drink water and smoothies.
*Watch movies - everyone has a list of movies they havent got around to watching, so why not see if they're on Netflix. 
*Read more books - everyone also has a list of books they havent got around to reading, so why not purchase the Kindle copy or buy pre-owned copies to save a little money.
*Dance - dancing is such a joyful activity. It's also exercise, you just need to put your favourite music on, get up and dance. 
Michael Jackson said it right when he said
"We are the world, we are the children, we are the one's to make a brighter day so lets start giving.
There's a choice we're making, we're saving our own lives, its true we'll make a better day just you and me."

*Exercise - We are not out and about, following busy schedules, going to work and school and everything else we do in a single day, so exercising at home and in the garden is very important for our overall health.
*Embrace family time - we never see our families this much, so enjoying family time, playing games, taking photos and doing other traditional activities should be embraced.
*Declutter your room - now that you have time you can actually Spring Clean and reorganise your house. I left that one till last, but it's important now tht you are in your house 24/7.
Get your copy of Mum And Dad, We Know What Love Is for your pre-teens. Its a short story of Zurie and Zaria's first day at hgh school but also their journey to find love. You can read the preview on the https://www.kayishaonline.com/books" target="_blank">books page of the Kayisha Online website. Kindle and paperback are available on Amazon and Kayisha Online.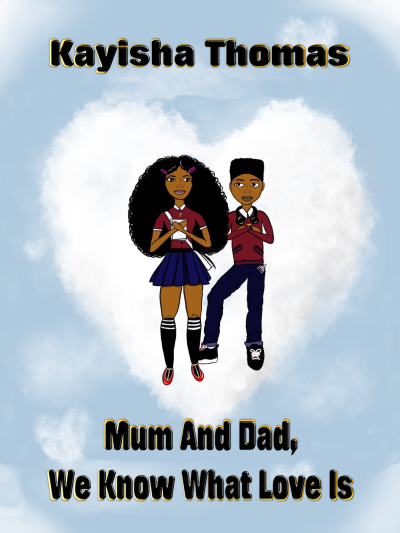 P.S. When this is all over and done with; the quarantine is over, the lockdown is lifted and the virus is a thing of the past; we (me, Zurie and Zaria) don't want the world to go back to normal. Normal is what got us here. I want NEW and IMPROVED. Healthy, clean, respectful and considerate. Normal can't work for the rest of 2020 and beyond. We need EXTRAORDINARY!!!
My books:- Ounce Of Faith And Inspiration, Quotes Of Faith And Inspiration, Measures Of Purpose In Life and Mum And Dad, We Know What Love Is are available on Kayisha Online, Kindle and https://www.amazon.co.uk/kindle-dbs/entity/author/B01MSROG5T?_encoding=UTF8&node=492564011&offset=0&pageSize=12&searchAlias=stripbooks&sort=author-sidecar-rank&page=1&langFilter=default#formatSelectorHeader" target="_blank">Amazon. Order Your Copy Today!
Be Inspired!
Kayisha 
www.kayishaonline.com 
All Things Kayisha
#StayHomeWithMe #ZurieAndZaria #Twins #FraternalTwins #Covid19 #Lockdown #Quarantine #StayHomeSaveLives #TogetherAtHome #MichaelJackson #MumAndDadWeKnowWhatLoveIs #WeAreTheWorld #ChildrensBook