Overdue Healthy Immune System
I have been an absolute health freak since I was really young. I remember asking my dad to buy me a smoothie maker when I was 16 years old, because I wanted to start making my own smoothies. I had a list of recipes that I wanted to try and just needed the machinery. I actually still have the smoothie maker to this day, and I love it. I have been determined to put the right things in my body for the majority of my life, and as a result of that early desire, when I was just 4 years old, I told my mum that I didn't want to eat meat anymore. That's how serious I was.
I used to share my knowledge and passion for healthy eating with my friends at school, and my family BUT that wasn't enough for me. I set up a party planning business when I was 19 and I vowed to always provide healthy food for the children attending the parties. That still wasn't enough, so in 2015 when I started the Sophisticated K YouTube channel (now https://www.youtube.com/playlist?list=PL3Ov0hYfX66dfAPpUlarAEC32u493PlqI" target="_blank">K London YouTube Channel) I focused on sharing the smoothie recipes I had created over the years with the world. In every video, I shared the nutritional value of all of the ingredients and educated my viewers on the health benefits. I have been ranting and raving about the the foods we consume and the effect we have on our own bodies for years. My reason and motivation was my Eczema, but I think, even if I didn't suffer with it, I would still have been passionate about my health from a young age.
Now, I tell you all of this because everything you do impacts your Immune System, and you may be wondering...
What Is Your Immune System?
Hold up. wait a minute! I'm about to tell you now. Your Immune System is your bodies defense mechanism that fights against illness and infections. It is so intelligent, it can recognise foreign particles, cells and anything unfamiliar within your body. It destroys germs and viruses and things that don't belong in your body i.e. Fungi and Parasites. Your Immune System makes Antibodies to fight and get rid of the Antigens that don't belong in your body; basically they are not welcome! Your body needs infection-fighting proteins and healthy white blood cells in order to be able to carry out the fight successfully. Just like a muscle, your Immune System gets stronger the more you use it, so from the minute you are born, it's important to build your Immune System so it can have a great reponse to the germs and bacteria you come into contact with. If your Immune System is weak, it will take you longer to recover from illnesses such as infections, colds and flus. Also, when your Immune System is compromised, you are more likely to get sick, so one of your main priorities should be to keep it healthy. You can also prevent yourself from contracting an infection by avoiding contact with someone who is sick and has an infection, consuming contaminated food and water, and getting bitten by animals or insects.
The next thing you may be wondering is...
How Do You Build your Immune System And Keep It Healthy?
Hold up. wait a minute! I'm about to tell you now. There are MANNNNNY things that you can do, but there are also things that you shouldn't do, should stop doing immediately or cut out of your lifestyle as soon as possible. Check out the list below.
*You can stop drinking soda/ fizzy drinks, drinks high in sugar and too much caffiene (it has a diuretic effect and causes dehydration.)
*You can stop eating foods high in sugar and processed/ quick/ junk food.
*You can stop smoking cigarettes and taking drugs.
*You can stop drinking or drink less alcoholic drinks (in moderation/ as a treat is fine).
*You can start to exercise regularly.
*You can get good quality sleep, approximately 8 hours of sleep.
*You can avoid contracting an infection by washing your hands, being hygienic and avoiding unsanitary environments and habits.
*You can maintain a healthy weight. Your BMI is very important.
*You can have a healthy balanced diet that consists of an array of fruits and vegetables daily.
*You can increase the amount of foods you eat with Antioxidants, like berries. Also increase foods high in Folate like lentils and cantaloupe melon, Folate assists with the development of new white blood cells.
*You can introduce vitamins, minerals and supplements into your daily regime to ensure that you have enough nutrients. You can also take Probiotics, a good bacteria that assists with gut and immune health. The more good bacteria in your gut, the easier it will be for your immune system to differetiate the good from the bad, and fight the bad.
Then you might be asking...
What Fruits And Vegetables Should I Be Eating?
Hold up. wait a minute! I'm about to tell you now. And before I share the list, let me just tell you that you might already eat some of these, but I have to remind you that these need to be consumed regularly/ daily. Like I shared above, a great way to get multiple Immune System building fruits in one go is to create smoothies, and there are loads that you can try. The K London YouTube channel has a Food & Drink With K London playlist that has over 40 videos about food and drinks. Be sure to check that out. https://www.youtube.com/playlist?list=PL3Ov0hYfX66dfAPpUlarAEC32u493PlqI" target="_blank">Food & Drink With K London Playlist 
*Citrus fruits that are high in Vitamin C such as orange, lemon, grapefruit, kiwi, lime, papaya and much more.
*Sweet peppers - red, yellow and green.
*Ginger
*Garlic
*Spinach
*Broccoli
and the list goes on.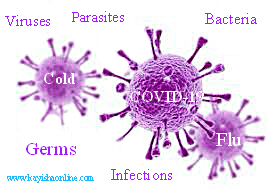 What About COVID-19/ Coronavirus?
In regards to the Coronavirus, the best time to start building your Immune System is NOW. I've been telling my YouTube channel viewers about all of the things I do to stay healthy for years, and more recently, in January 2020, I shared what my regime is and the vitamins, minerals and Probiotic tablets that I take. I try to encourage people to live a good life in as many ways that I can. I have a health and wellbeing ounce in my book, Ounce Of Faith And Inspiration. I incorporated fruits in the designs of my Fruits Of The Spirit t-shirt collection and honestly, I do as much as I can but ultimately it is up to you. Your health is in your hands, and I wish it didn't take the Coronavirus outbreak and the pandemic were currently battling to get people in gear. I wish it didn't take this crisis for people to realise that they needed to heed this advice long ago. Life is precious, your body is made to handle these tasks, but you have to do right by it and not when it's too late.
Check out the health message I posted on the K London YouTube channel and I hope you stay healthy, clean and positive. I also hope you stay at home because your life and that of your family depends on it.
Be Inspired!
Kayisha Online
www.kayishaonline.com
Share this post with your loved ones, the more knowledge we have the better we will be. Oh and #StayHomeSaveLives
#ImmuneSystem #HealthyDiet #EatClean #COVID19 #Coronavirus #Probiotics #ImmuneBooster #EatClean #LiveGood #GoodFood #Dietitian #HealthyLiving