This Is Why I Love Fashion<3
Layls shades from https://www.Sparkssunglasses.co.uk
The fashion industry has been playing a crucial role in lives all over the world, during the global pandemic that is the Coronavirus outbreak.
Designers and fashion labels are paying it forward by donating large sums of not only money, but also space, medical supplies, masks and gowns. Everyone is coming together, whilst also staying far apart #SocialDistancing and as we should be. Although distance and time zones separate continents, countries, states and towns, we are all humans and we are all connected. Because of that, we have to do what we can to stop the spread of the virus, to support healthcare professionals and to support those less fortunate that ourselves. And let me be clear, numbers are just numbers, the amount of people we help doesn't matter in comparison to the next person, what matters is tht we are doing our part in the midst of this crisis.
*Prada for example, started the production of 80,000 medical gowns and 110,000 masks in order for them to be distributed to healthcare professionals.
*Rihanna's Clara Lionell Foundation has donated $5million to help vulnerable communities and support the efforts of food banks, provide protective gear and much more for those in need.
*Kima's Luv Boutique got creative and made me a fashionable, custom made, fully functioning face mask in a matter of hours, whilst working from home. And let me add that it was with little to no notice. And she's been making more today. 
The photos above and below say it all. I had to sport my new face mask, along with my Sparks Sunglasses and my work uniform. I was just leaving home when I thought "I'm on my way to work, but let me capture this outfit of the day." I aso had to write an ode/ a poem. The Writer in me bubbled up, and that meant I had to write this poem to share how effortless and natural the experience of getting a custom designed, made to measure mask was. Enjoy!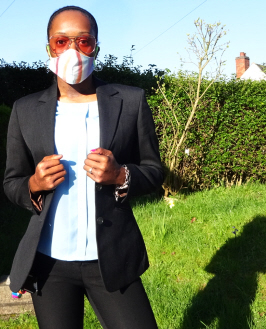 It started with a lady,
who came up in my face.
Disregarding social distancing
what an absolute disgrace.
~~~
I hadn't worn a mask till now,
but oh how I think it's time.
I pulled out my phone and jeez wow
I sent a quick text no mime.
~~~
Can you make a face mask for me,
these people think it's a joke
Life and good health don't come for free,
needle and thread to material, poke, poke, poke!
~~~
Spring is on its way again, the rabbits are out,
to the sewing machine she went, let's make it nice and bright
Would it be finished in time? About that I had no doubt,
it's just for you so try it on, the fit has to be just right.
~~~
Put lining inside so you breath in clean air,
off to work tomorrow, key worker have no fear.
It's all done now so on it goes, like that from ear to ear
God has blessed you so be a good steward, your talent you must share.
I hope you like my poem, and my outfit of the day featuring my custom designed face mask. I'm sure Kima's Luv would be happy to provide you with a made to measure mask, so feel free to hit her up on Instagram of Facebook @KimasLuv to place your order. And before I go, can I just reassure you that we will beat this crisis and come out with the victory. We're in this together! Stay clean, stay healthy, be love and have faith.
Be Inspired!
Kayisha
www.kayishaonline.com
#FashionIndustry #PPE #Coronavirus #FaceMask #COVID19 #Rihanna #Prada #ClaraLionel #KimasLuv Poem #OdeToFashon #OOTD #MaskOn